Put Apps on Autopilot
Auto Apps provides set-it-and-forget-it ease for your app deployment and patch management needs.
Request Access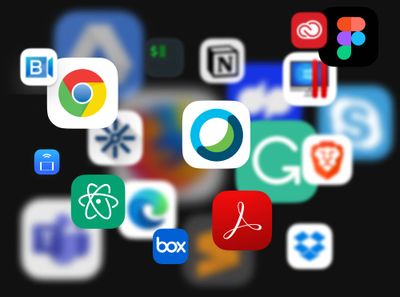 Why use Auto Apps?
Ensure users are always running the right software versions without you running individual patch management and app deployment. Auto Apps does the heavy lifting for you without interrupting users' work.
App patching is automated
Kandji hosts and patches all Auto Apps for you. We QA test every update before releasing it, so you can rest assured that everything is working properly on delivery.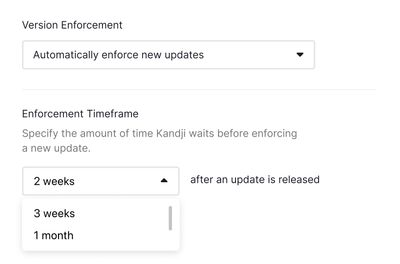 Important work is uninterrupted
Unexpected updates will no longer disrupt users' days. Thanks to daily update reminders with the option to delay before your set deadline, users choose the best time to install the latest version of their apps and keep their workflow flowing.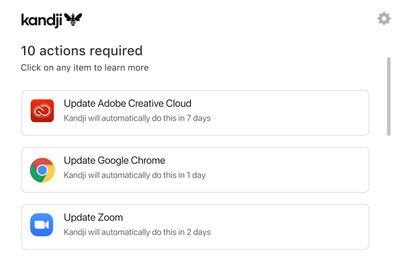 Deadlines are flexible until they aren't
Kandji helps you balance security with productivity. You set the timeline for mandatory software updates, but users have the flexibility to delay installation until they are ready. That way, they make sure updates don't disrupt their day, and you make sure everyone is on the latest version by the deadline.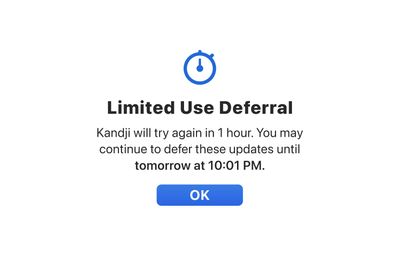 Latest installation assets and patches from the developer; updates are thoroughly tested and approved across different versions of macOS and Apple hardware.
Configuration profiles to handle kernel extension whitelisting, Privacy Preferences Policy Control, and allowing the app to send alerts to the user.
Options for enforcing updates. Choose to enforce new updates or a minimum version automatically. Or choose a specific date as the deadline to install a given app version.
Options for delivery. Self-service or continuously enforce it. You can also add it to the dock.
App notification management. Maintain precise control over app notifications and user access to notification settings.
Deploying Auto Apps
See how you can eliminate hours of work in 20 seconds
Rosetta 2 required? No problem.
When an Auto App requires Rosetta to run on a Mac computer with Apple Silicon, the Kandji Agent will automatically check for and install Rosetta 2 as needed.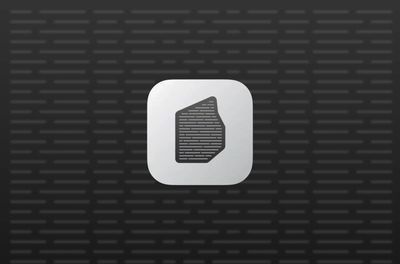 Advanced deploying and displaying
You have full control over how the app is deployed and displayed to users. You can enforce the installation or make it available in self-service.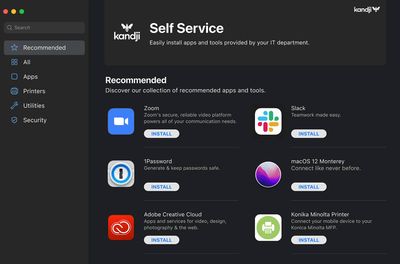 Apps are just one aspect
Kandji keeps your device fleet in its desired state with powerful automation, an extensive app library, and a UX that's as friendly for admins as it is for end users.
Request Access