Deliver the Perfect First-Day Experience
With Liftoff, you can make a freshly unboxed Mac transform itself into an enterprise-ready computer with all the right apps, settings, and security controls in place. Liftoff lets you show users what's happening on that first startup and how soon they can get to work while automating as much as possible for the admin.
Elegant end-user interface
Request Access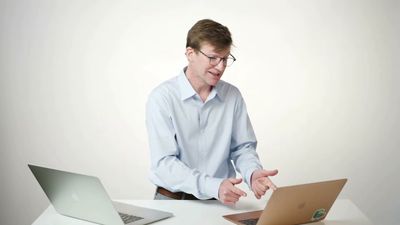 Watch the launch event
Watch the Kandji Liftoff launch event replay. Registrations from over 2,000 Mac admins, IT leaders, and tech enthusiasts worldwide flooded our inbox, with almost 1,000 showing up to watch it live as a shared experience.

Weldon Dodd
SVP of Product Strategy,
Kandji

Arek Dreyer
Senior Product Engineer,
Kandji
Liftoff
Forget about editing preference files, recompiling packages, configuring launch agents, or scripting. Liftoff makes it simple to give users an easy-to-understand view of the setup process.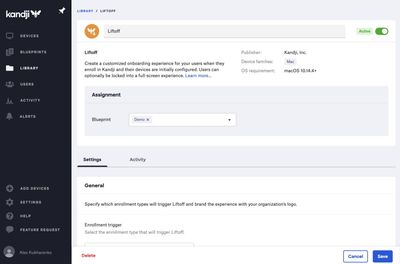 Onboarding with Kandji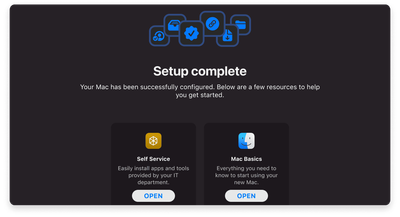 Users can't wait to get started with their new Mac computers—but you don't want them to do so before everything is fully configured. The answer? A clean, elegant, customizable interface shows end users the setup process's progress.

Users sometimes do funny things—interrupting first-time installations by disconnecting power cords or changing Wi-Fi networks midstream. Liftoff takes that in stride, with robust error handling and recovery.

Customize the screen users see when Kandji has fully configured their computer and has it ready to use. Provide easy access to tools they'll need to get started, including Kandji Self Service, help links, online resources, and more.
Start making the best first impression today
Kandji's platform amplifies all of Apple's MDM framework capabilities and multiplies the power of your IT teams. Test out the full suite of features.
Request Access