Slay Your Day-to-Day
Getting Apple devices to their desired state is only half the battle. Kandji helps you accomplish more daily with time-saving tools to lock devices, deploy custom scripts, and alert you when issues arise.
Request Access
Why manage Apple devices in Kandji
A business only runs as well as its infrastructure. With Kandji's intuitive interface, managing, configuring, and troubleshooting has never been easier.
Custom scripts
While most common automations are one-click options in our library, Kandji supports custom scripts for any unique device-control needs.
Configuration profiles
Beyond our robust library of prebuilt profiles, you can also deploy custom .mobileconfig files to power your custom app requirements.
Remote lock and wipe
Out of sight doesn't mean out of your control. Thanks to Kandji's remote device encryption enforcement and lock/wipe capabilities. Keep your data safe in cases when devices are lost or stolen.
Account recovery
Kandji gives you access to Filevault recovery keys, activation lock bypass codes, and recovery lock passwords to help users regain access to their Mac computers. They can log back in and get on with their day.
What it looks like in action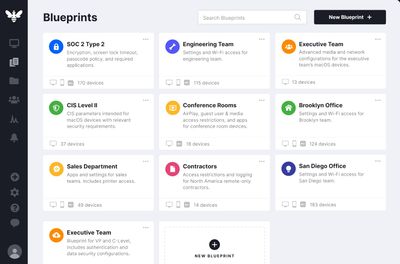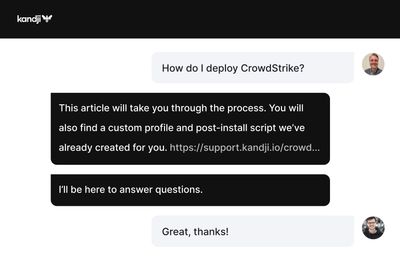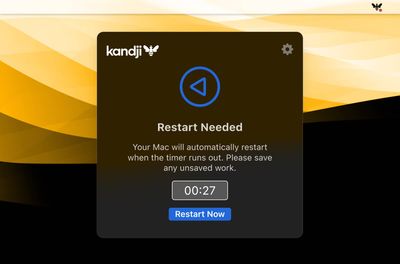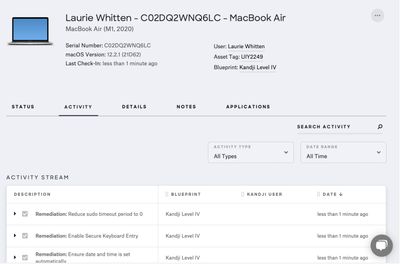 Blueprints organize all the configurations and software being delivered to a group of devices and continually enforce your set parameters.

Creating and deploying configuration profiles, scripts, and applications is a breeze with Kandji's easy-to-use web app. Plus, our support staff of former Mac admins is ready to answer any questions and solve any problems quickly and efficiently.

Together, the MDM framework and Kandji Agent continually enforce the automations you deploy, from enforcing host-naming conventions to mandatory device restarts.

Oversee your fleet while keeping tabs on all activity. Kandji lets you view detailed records, critical updates, and an extensive log of remediations performed on each computer. Real-time alerts ensure you're always in the know.
Management is just one aspect
Kandji keeps your device fleet in its desired state with powerful automation, an extensive app library, and a UX that's as friendly for admins as it is for end-users.
Request Access